There are 6 FACOM models available in 2 ranges:
1. The TRAKER range (Tanaka S1P, Torino S3 and Toroso S3 models) with its separate heel and three Parade technologies for enhanced comfort (VPS System: Arch support, Parade Air: air cushioning, and DRS System: heel support for shock absorption).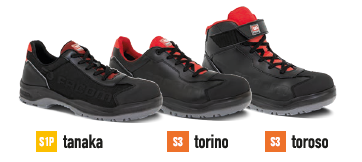 2. The SUPERFLEX range (Sotchi S1P, Suzuka S3 and Shikan S3 models) is renowned for its design but above all for its sports-derived technologies.
Depending on your profession and your needs, you can choose a low model (Tanaka, Torino, Suzuka or Sotchi) or a high model (Toroso or Shikan).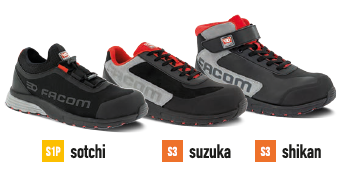 The two S1P models offer you optimal protection indoors as well as in dry environments.
The S3 models are suitable for working outdoors, in a wet environment, or anywhere they will be subjected to splashes, as the upper is made of a water-repellent material, i.e. resistant to the penetration and absorption of liquids.